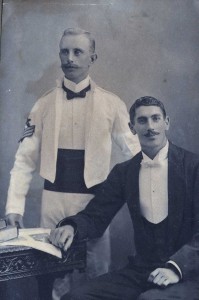 Letter from Charles to those at Kingsley Hall, dated 25th July 1907:
Dear Father and Mother. Many thanks for the letter received from mother just a month today. I hope you will forgive me for being such a long time in replying but I have had rather a busy six weeks and have done very little writing. I have just returned from my musketry course at Hythe. I met one of the Royal Berks down there and had several chats with him about the boys in the Regiment. As soon as I mentioned Walter G and Charlie G he asked me if I was one of Mrs Hicks' boys. I expect he will have told them by now that he met me.

I came 23rd out of 248, and got Distinguished. The Colonel said he was exceedingly pleased with me as I held the 2nd highest place in the Northern Command. I got the possible marks in the mechanism, stripping down and reassembling the maxim gun, but I don't know how I came out on the written examination. I was chosen in a team of eight to shoot against the Hythe staff. They offered us a silver spoon each if we beat them, but they beat us by nine points, the distances were 200, 500 and 600 yards.

I suppose mother has returned from Canada by now. I hope you are all keeping well.

Yours gratefully, Charlie J."
Further research suggests that Walter and Charles G referred to above were two brothers, Walter and Charles Graves. They were at the orphanage with Charlie and they later both joined the Royal Berkshire Regiment. It is likely that this photograph is one of the brothers.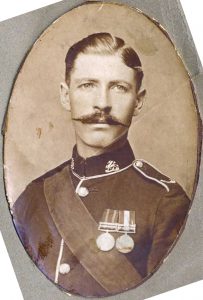 Promotions
Charles was based in Lichfield from 1904 until 1908. While there Charles was promoted to Sergeant (7th July 1905). Two years later, on 14th December 1907, he was appointed Orderly Room Clerk at the Regimental Depot. On 11th February 1909 Charles was promoted to Colour Sergeant, shortly afterwards he became a Musketry Instructor.
From Lichfield the Battalion moved to the huts and mud of Bordon, relocating to Ireland in September 1909.