As Charles' medical records below show, Charles was injured badly at Waterlot Farm. He lost his left forearm and had a hole through his leg, which unsurprisingly was badly broken.
While Charles' was recuperating at Fazakerley Hospital, he received a postcard from the men at the front. In the card, dated 25th April 1917 the author comments that they were visited by the Regimental Colonel. I believe the photograph was taken in honour of that visit.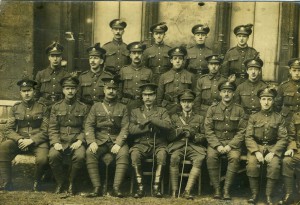 Charles also had a photograph of medical staff, possibly at Fazakerley Hospital, although this cannot be confirmed.