The photo in the header is of officers of the 16th Battalion taken at the Ionic Street School Billet (now Rock Ferry Primary School) in Birkenhead. The Bantams moved into the school in mid-January 1915, the children who attended the school were moved elsewhere for the duration.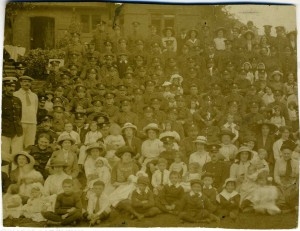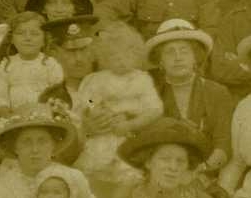 Charlie was promoted to Second Lieutenant on 5th December 1914, before being promoted to temporary Captain on the 12th April 1915. Three months later, on 29th July 1915, Charles was appointed Adjutant of the 16th Battalion.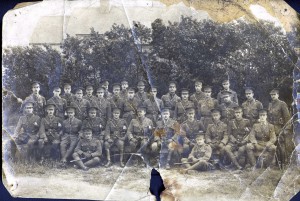 Above: the Officers of the 16th Cheshire Regiment pose for a photograph headed: "Fighters for the freedom of Europe" and footed: "The Bantams are more than justifying the opinion of the 'BMJ' and are turning out very smart soldiers"
Back Row: (L2R) Capt W.A. Ellis, 2nd Lieut F.E.Starkey, 2nd Lieut L.Millington, 2nd Lieut Monoprio, 2nd Lieut R.McLaren, Capt D.C.Fry, 2nd Lieut J.H.Blake, 2nd Lieut H.S.Halsall, 2nd Lieut P.H.Jones, Lieut W.R.Batty, Lieut E.W.Bigland, 2nd Lieut A.C.Styles, 2nd Lieut G.G.Earle, Lieut S.G.Hewitt, 2nd Lieut E.Billington, 2nd Lieut E.F.Thurgood, 2nd Lieut F.R.Flynn, Lieut P.Forrester, 2nd Lieut H.D.Ryalls, Lieut T.Hare.
Second Row (sitting): (L2R) Lieut E.A.Good, Lieut & Quartermaster H.Halsall, 2nd Lieut J.D. Hodgson, Capt J.C.Bowe, Capt G Playfer (b.1885, d.1939), Lieut-Col C.E. Earle, Capt & Adjutant W.F. Austin, Capt L.I.L Ferguson, Capt C.Johnson, Capt D.Burnett, 2nd Lieut L.H.Wray.
Front Row (on ground): (L2R) 2nd Lieut S.G.Bowe, 2nd Lieut J.R.Dovener.